4396841 Water Filter 3 Compatible EDR3RXD1, W10193691 Water Filter, Made by Dfilters 6Packs
GUARANTEED SAFE CHECKOUT
Features:
Efficient Filtration - Reduce 97% Contaminants in Water.
Perfect Fit - Replace EDR3RXD1 / 4396841
Easy Installation - No tools required.
Long Filter Life - 300 Gals or 6 months.
Ship From the US, Fast Delivery Within 6-8 Business Days.
* Friendly Reminder: Package is updating, you may receive the products with a partially different appearance from the picture.
Frequently Bought Together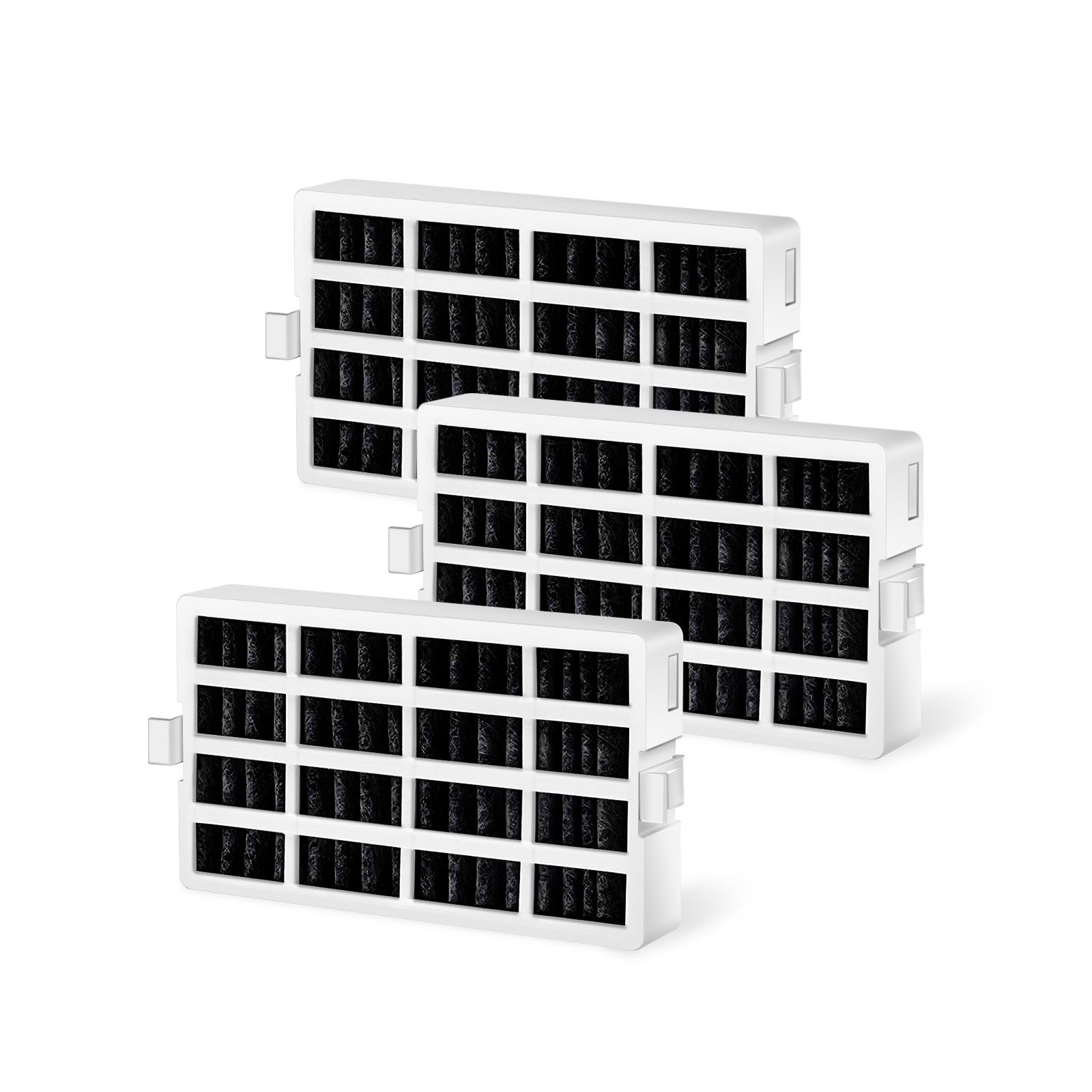 This item:

4396841 Water Filter 3 Compatible EDR3RXD1, W10193691 Water Filter, Made by Dfilters 6Packs

-

$56.99

W10311524, AIR1, AP4538127 Refrigerator Air Filter by DFilters 3pk

- $15.99
Description
This(D3) refrigerator water filter 1 could reduce 24 impurities in water as well as other harmful contaminants. The fridge filter is compatible with Everydrop Water Filter 3, 4396841, 4396710, Whirlpool EDR3RXD1 Water Filter and Kenmore 9083 Water Filter. Replacement brands like Whirlpool, Kenmore, Amana, Maytag, KitchenAid, Jenn-Air, Everydrop, etc. We recommend to replace the filter every 6 months to ensure the filtration performance.
Water is the source of life. Studies have shown that everyone needs to consume at least 0.53 gallons of water per day. Drinking an appropriate amount of water can promote the body's metabolism and help the organs to expel toxins from the body.
Our confidence comes from our powerful products. Each refrigerator filter of D Filters has undergone thousands of high-intensity tests before mass production, so that the products received by customers are satisfactory and amazing. As a professional refrigerator filter manufacturer, we will not let down the trust of every customer.
BPA-Free and food-grade materials, Sri Lankan coconut shell carbon block, super adsorption capacity, maximum reduction of harmful impurities contained in drinking water, while retaining beneficial minerals to the human body, significantly improved the taste of water.
D Filters can remove more than 97% of potentially harmful contaminants in the water, such as Chlorine, taste, odor, THM, VOCs, Particles and all other major impurities. It can also remove some herbicides, pesticides, pharmaceuticals and insect repellant that can be found in water.
D Filters uses advanced and precise measurement technology, and the refrigerator filter made by industrial automation equipment has the same size parameters as the original filter. It can be ensured that our refrigerator filter can perfectly fit your equipment and will not leak water.
Our refrigerator water filter is a complete replacement for the original water filter. You can easily complete the installation within a few minutes according to our installation instructions without any tools.
For the health of you and your family, please ensure drinking enough water. For the safety of you and your family, please be sure to drink filtered water.
Our D Filters
will always provide clean, good-tasting water for everyone.
The 4396841 is a Dfilters for Whirlpool replacement fridge water filter. The 4396841 is suitable for Whirlpool and KitchenAid side-by-side refrigerators with a push-button filter located in the grill at the bottom of the fridge below the doors. The 4396841 replacement filter also suits some new model refrigerators from Jenn-Air, such as the 6ED2FHGXSL and the 6ED2FHGXVA. 

Filter Specifications:
Flow Rate: 1.9 lpm
Temperature Range: 0.6°C – 38°C
Pressure Range: 207 kPa- 827 kPa
Capacity: 757 litres
Height: 30.5cm
Diameter: 7cm
The 4396841 removes from your water supply:
- 99% of Lead
- 91-96% of Mercury
- 96% of Benzene
- 99% of P-Dichlorobenzene
- 92% of insecticides
- 99% of Chlorine
- 95% of rust, dirt, sand, and sediment (0.5 to 1 micron in size)
The 4396841 is a genuine replacement for the following more common Whirlpool filter part numbers:
4396841P, 4396841B, 2305267, 2305222, 95357630, 5950924 PUR,4396841
2260515, 2260538, 2305222, 2305267, 2313412,
PBSS, PB-SS, W10121145, W10121146, W10177635, W10186667, W10193691,
6ed2fhgxva01, T2RFWG2, T2WG2, T2WG2L, T1WG2, T1WG2L,
P2RFWG2, P2WG2L, P1WG2L, P2WG2, P1WG2,
Aqua Blue 4396841WF, & Swift Green SGF-W84.
Why choose a Whirlpool Fridge Filter? 

A Whirlpool fridge water filter is designed to improve the taste, quality, and colour of your water and ice that is dispensed from your Whirlpool fridge. Having a water filter built-in to your fridge helps to save you from buying bottled water, ultimately saving you money. The 4396841 filter cartridge is engineered to protect the internal operations of your refrigerator from sediment, dirt, and the build-up on scale, as well as purifying your water supply to make it as delicious and clean as possible. For optimum dispensing results and to keep your fridge in great working order, we recommend routinely changing your fridge water filter as per the instructions on the filter packaging. This will not only ensure that your water tastes pure and fresh, but this will also help to avoid service costs.
How long should my Whirlpool Fridge Filter last?

Refrigerator manufacturers strongly recommend that fridge water filters are replaced every six months, or as soon as the 'change filter' light appears either on the front display panel or near the filter cartridge casing in your refrigerator. However, if you notice that the clarity or the taste of your water has changed, this is an indication that it is time for a new water filter. Replacing your water filter when this occurs ensures that your water remains fresh and that the ice and water mechanisms in your fridge are protected from any corrosion. 

INSTALLATION 

1. Locate the existing filter in the grill below the freezer door.
2. Push button firmly until the filter pops out. 
3. Remove the cap from the old filter by twisting counter clockwise (left). 
4. Discard old filter.
5. Re-install the cap onto the end of the new filter. 
6. Remove the small plastic caps from the other end of the new filter. 
7. Insert the new filter into the refrigerator and push firmly until it clicks into place.
8. Dispense 3 litres of water through the new cartridge to remove any trapped air and carbon fines.
9. Reset the filter indicator icon on the fridge display.
Resetting the 'change filter' light:

To reset the 'change filter' light setting, press the LIGHT switch 5 times within 10 seconds. If the fridge has a FILTER button press and hold for 5-10 seconds. 

Will the 4396841 filter fit into my Whirlpool fridge?

Below is a list of refrigerator models that will take the 4396841 water filter:
- 4396710, 4396710B, 4396710P, 4396710T, 4396711, 4396711B, 4396711P, 4396711T
- 4396841, 4396841B, 4396841P, 4396841T, 4396842, 4396842B, 4396842P, 4396842T
- P1RFWB2, P1WB2, P1WB2L, P1RFWG2, P1WG2, P1WG2L, P2RFWG2, P2WG2, P2WG2L
- T1RFWB2, T1WB2, T1WB2L, T1RFWG2, T1WG2, T1WG2L, T2RFWG2, T2WG2, T2WG2L
- Sears/Kenmore : 46-9020, 469020, 9020, 9020P, 9020B, 04609020000, 46-9030, 469030
- 9030, 9030P, 9030B, 04609030000, T1KB1, T1KB2, T1RFKB1, T1RFKB2, P1KB1, P1KB2, P1RFKB1, P1RFKB2
- PUR : 2260515, 2260538, 2305222, 2305267, 2313412, 95357630, PBSS, PB-SS,
- W10121145, W10121146, W10177635, W10186667,6ed2fhgxva01, W101936916,ED2FHGXVAPK
EDR3RXD1
PLEASE NOTE: If you are unsure of what water filter your Whirlpool refrigerator might take, you can enter your fridge code into the search bar on the top left or right of your screen and click the search icon. This will give you a list of available replacement filters that will suit your fridge. You can also use the chat module at the bottom left of your screen to send us a message. Alternatively, you can also email us or chat with us over the phone. Our experienced, friendly, and Australian-based sales team are always happy to help.
4396841 Water Filter 3 Compatible EDR3RXD1, W10193691 Water Filter, Made by Dfilters 6Packs
$108.99