Filter 1 Dfilters D1 EDR1RXD1 W10295370A 9081 Replacement Refrigerator Water Filter Glacialpure Filter GP001 Filter1pro 3Packs
GUARANTEED SAFE CHECKOUT
Features:
Efficient Filtration - Reduce 97% Contaminants in Water.
Perfect Fit - Replace EDR1RXD1 / W10295370A.
Easy Installation - No tools required.
Long Filter Life - 200 Gals or 6 months.
Ship From the US, Fast Delivery Within 6-8 Business Days.
* Friendly Reminder: Package is updating, you may receive the products with a partially different appearance from the picture.
Frequently Bought Together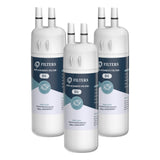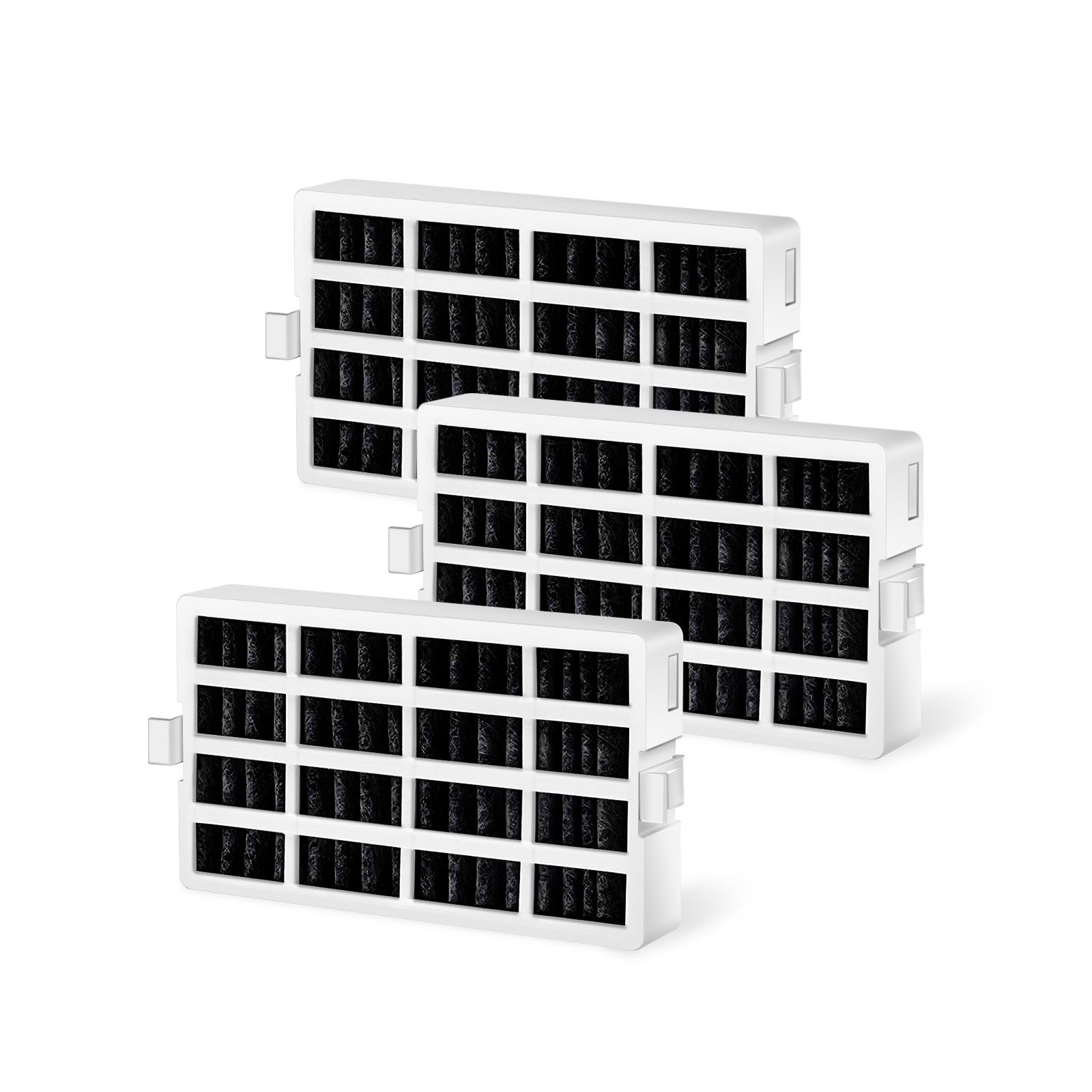 Total price:

$50.99

$84.99
This item:

Filter 1 Dfilters D1 EDR1RXD1 W10295370A 9081 Replacement Refrigerator Water Filter Glacialpure Filter GP001 Filter1pro 3Packs

-

$44.99

W10311524, AIR1, AP4538127 Refrigerator Air Filter by DFilters 3pk

- $15.99
Description
This(D1) refrigerator water filter 1 could reduce 24 impurities in water as well as other harmful contaminants. The fridge filter is compatible with Everydrop Water Filter 1, W10295370A, Whirlpool EDR1RXD1 Water Filter and Kenmore 9081 Water Filter. Replacement brands like Whirlpool, Kenmore, Amana, Maytag, KitchenAid, Jenn-Air, Everydrop, etc. We recommend to replace the filter every 6 months to ensure the filtration performance.
Water is the source of life. Studies have shown that everyone needs to consume at least 0.53 gallons of water per day. Drinking an appropriate amount of water can promote the body's metabolism and help the organs to expel toxins from the body.
Our confidence comes from our powerful products. Each refrigerator filter of D Filters has undergone thousands of high-intensity tests before mass production, so that the products received by customers are satisfactory and amazing. As a professional refrigerator filter manufacturer, we will not let down the trust of every customer.
BPA-Free and food-grade materials, Sri Lankan coconut shell carbon block, super adsorption capacity, maximum reduction of harmful impurities contained in drinking water, while retaining beneficial minerals to the human body, significantly improved the taste of water.
D Filters can remove more than 97% of potentially harmful contaminants in the water, such as Chlorine, taste, odor, THM, VOCs, Particles and all other major impurities. It can also remove some herbicides, pesticides, pharmaceuticals and insect repellant that can be found in water.
D Filters uses advanced and precise measurement technology, and the refrigerator filter made by industrial automation equipment has the same size parameters as the original filter. It can be ensured that our refrigerator filter can perfectly fit your equipment and will not leak water.
Our refrigerator water filter is a complete replacement for the original water filter. You can easily complete the installation within a few minutes according to our installation instructions without any tools.
For the health of you and your family, please ensure drinking enough water. For the safety of you and your family, please be sure to drink filtered water.
Our D Filters
will always provide clean, good-tasting water for everyone.
Filter 1 Dfilters D1 EDR1RXD1 W10295370A 9081 Replacement Refrigerator Water Filter Glacialpure Filter GP001 Filter1pro 3Packs
Detail
Drinking eight cups of water every day is good for your health. To enjoy healthy drinking water, look no further than our refrigerator replacement water filter. Designed to fit most brands, our water filter is compatible with EDR1RXD1, FILTER 1, Kenmore, KFFS20EYMS, SF26C4EXY, Maytag, etc. Our replacement refrigerator water filter delivers cleaner, fresher, better-tasting and more wholesome water to you and your family.
Features
Removes chlorine, lead, mercury, cadmium, and thallium while maintaining the original beneficial minerals.
Easy & fast replacement: Replacing the cartridge inside the refrigerator requires only a few minutes without tools.
Manufactured with advanced technology, our water filter replacement will serve as the original one without leaks.
Our water filter comes with a lifespan of six months or 200 gallons, which means you only need two or three filters per fridge every year.
30-day money-back guarantee: You will receive a full refund if you don't like the product or it does not match the description within 30 days of arrival.
Compatible with:
Whirlpool
EDR1RXD1
W10295370,W10569760, W10295370A, WRL767SIAM, WRS322FDAB, WRS325FDAB, WRS526SIAH, WRS537SIAB, W10276924, W10291030,
FILTER 1
P4RFWB, P5WB2L, PS2378001

Kenmore
46-9930 9930, 9930P 469930, 04609930000, 9081, 106.51173.310
FILTER1
GSC25C4EYB, GSC25C5EYB, GSF26C4EXA, GSF26C4EXB, GSF26C4EXQ, GSF26C4EXS, GSF26C4EXT, GSF26C4EXY, GSS26C4XXA, GSS26C4XXQ, GSC25C4EYB, GSC25C4EYW, GSC25C4EYY, GSC25C5EYW, GSC25C5EYY, GSC25C6EYB, GSC25C6EYW, GSC25C6EYY, GSF26C4EXA, GSF26C4EXT, GSF26C4EXW, GSF26C4EXY, GSF26C5EXA, GSF26C5EXB, GSF26C5EXS, GSF26C5EXT, GSF26C5EXW, GSF26C5EXY, GSS26C4XXA, GSS26C4XXB, GSS26C4XXW, GSS26C4XXY, GSS26C5XXA, GSS26C5XXB, GSS26C5XXW, GSS26C5XXY, GSS30C6EYB, GSS30C6EYW, GSS30C6EYY, GSS30C7EYB, GSS30C7EYW, GSS30C7EYY
KFFS20EYMS
P4RFKB2, P4RFWB P5WB2L, PS2378001
SF26C4EXY
W10276924, W10291030, W10295370, W10394044 WRF560SEYB00, WSF26D4EXA, WSF26D4EXB, WSF26D4EXL, WSF26D4EXQ, WSF26D4EXS, WSF26D4EXY, , WSF26C2EXB, WSF26C2EXW, WSF26C2EXY, WSF26C3EXB, WSF26C3EXW, WSF26C3EXY, WSF26D2EXB, WSF26D2EXW, WSF26D2EXY, WSF26D3EXA, WSF26D3EXB, WSF26D3EXL, WSF26D3EXS, WSF26D3EXT, WSF26D3EXW, WSF26D3EXY, WSF26D5EXA, WSF26D5EXB, WSF26D5EXL, WSF26D5EXS, WSF26D5EXW, WSF26D5EXY, WRS586FIEM01, WRS571CIDM01, WRS325FDAW04, WRS325FDAM04, WRS325FDAM02, WRS322FDAM02,WRS322FDAW04, WRS322FDAM04, GSF26C4EXT02, ASD2575BRB01, 10651764510

7KSF26C6YY00, KFFS20EYBL00, KFFS20EYBL01, KFFS20EYBL02, KFFS20EYBL04, KFFS20EYMS, KFFS20EYMS00, KFFS20EYMS01, KFFS20EYMS02, KFFS20EYMS04, KFFS20EYWH00, KFFS20EYWH01

Maytag:
MFF2055DRE, MSB26C6MDE, MSF21D4MDM, MFF2055DRH, MSB26C6MDH, MSF25D4MDE, MFF2055DRM, MSB26C6MDM, MSF25D4MDH, MFW2055DRE, MSC21C6MDM, MSF25D4MDM, MFW2055DRH, MSF21D4MDE, MFW2055DRM, MSF21D4MDH

ASD2275BR, ASD2275BRS00, ASD2575BR, ASD2575BRS01, ASD2275BRB, ASD2575BRB0, ASD2575BRB, ASD2575BRW

Jenn-Air:
JSC23C9EEM, JSC24C8EAM
Six-month service life: Contaminants in water and the quality of the water can affect a filter's lifetime. For maximum contaminant reduction, it is recommended to replace your water filter every 6 months or 200 gallons.
Spec
| | |
| --- | --- |
| Filter Type | Coconut Shell Carbon |
| Filter Life | 6 Months |
| Brand Compatibility | EDR1RXD1, Kenmore |
| Capacity | 200 Gallons |
| Operating Pressure | 30-125 Psi |
| Operating Temperature | 34-100°F |
| Flow Rate | 0.528Gpm |
| Package Qty | 3 |
Filter 1 Dfilters D1 EDR1RXD1 W10295370A 9081 Replacement Refrigerator Water Filter Glacialpure Filter GP001 Filter1pro 3Packs
$79.99