EDR2RXD1 Water Filter D2 9082 Kitchenaid Filter 2 W10413645a Replacement Refrigerator Water Filter By Dfilters 3Packs
GUARANTEED SAFE CHECKOUT
Features:
Efficient Filtration - Reduce 97% Contaminants in Water.
Perfect Fit - Replace EDR1RXD1 / W10295370A.
Easy Installation - No tools required.
Long Filter Life - 200 Gals or 6 months.
Ship From the US, Fast Delivery Within 6-8 Business Days.
* Friendly Reminder: Package is updating, you may receive the products with a partially different appearance from the picture.
Frequently Bought Together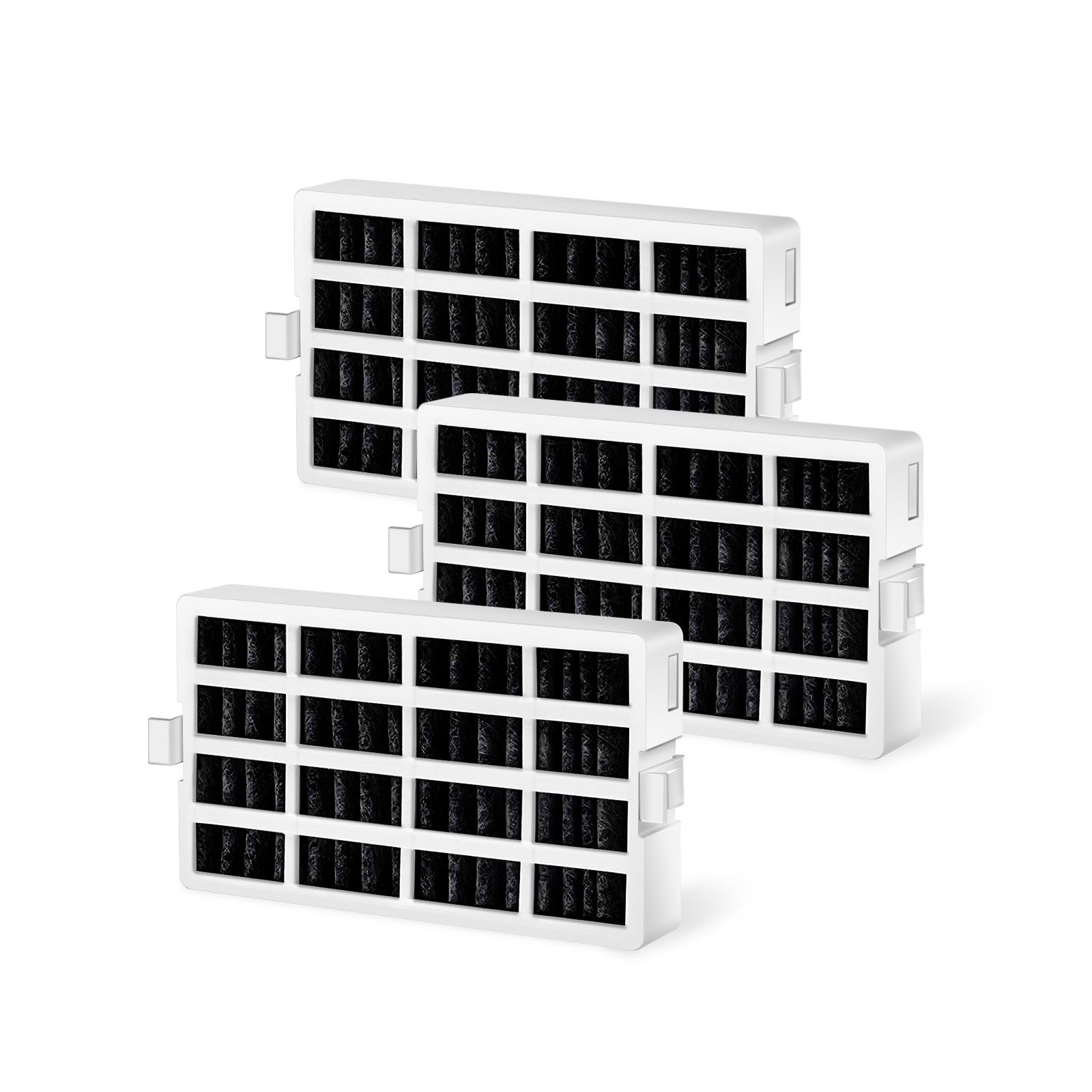 This item:

EDR2RXD1 Water Filter D2 9082 Kitchenaid Filter 2 W10413645a Replacement Refrigerator Water Filter By Dfilters 3Packs

-

$45.99

W10311524, AIR1, AP4538127 Refrigerator Air Filter by DFilters 3pk

- $15.99
Description
This(D1) refrigerator water filter 1 could reduce 24 impurities in water as well as other harmful contaminants. The fridge filter is compatible with Everydrop Water Filter 1, W10295370A, Whirlpool EDR1RXD1 Water Filter and Kenmore 9081 Water Filter. Replacement brands like Whirlpool, Kenmore, Amana, Maytag, KitchenAid, Jenn-Air, Everydrop, etc. We recommend to replace the filter every 6 months to ensure the filtration performance.
Water is the source of life. Studies have shown that everyone needs to consume at least 0.53 gallons of water per day. Drinking an appropriate amount of water can promote the body's metabolism and help the organs to expel toxins from the body.
Our confidence comes from our powerful products. Each refrigerator filter of D Filters has undergone thousands of high-intensity tests before mass production, so that the products received by customers are satisfactory and amazing. As a professional refrigerator filter manufacturer, we will not let down the trust of every customer.
BPA-Free and food-grade materials, Sri Lankan coconut shell carbon block, super adsorption capacity, maximum reduction of harmful impurities contained in drinking water, while retaining beneficial minerals to the human body, significantly improved the taste of water.
D Filters can remove more than 97% of potentially harmful contaminants in the water, such as Chlorine, taste, odor, THM, VOCs, Particles and all other major impurities. It can also remove some herbicides, pesticides, pharmaceuticals and insect repellant that can be found in water.
D Filters uses advanced and precise measurement technology, and the refrigerator filter made by industrial automation equipment has the same size parameters as the original filter. It can be ensured that our refrigerator filter can perfectly fit your equipment and will not leak water.
Our refrigerator water filter is a complete replacement for the original water filter. You can easily complete the installation within a few minutes according to our installation instructions without any tools.
For the health of you and your family, please ensure drinking enough water. For the safety of you and your family, please be sure to drink filtered water.
Our D Filters
will always provide clean, good-tasting water for everyone.
EDR2RXD1 Water Filter Dfilters D2 Compatible with W10413645A Filter 2 Drop 2 Water Filter GP002 3Packs
Detail
Product Description: Drinking clean water benefits your health, including maintaining hydration, circulation, body temperature and normal functions of your organs. An adequate fluid intake of a man is eight 8-ounce glasses per day, which equals about two liters or half a gallon. Well, how to get clean drinking water easily? The Filter1Pro EDR2RXD1 W10413645A filter model is tested by our QC team for solid build quality and excellent filtration capacity. This replacement water filter 2 is eco-friendly and safe to use, reducing bottled water consumption and protecting the environment. It can remove the majority of unwanted contaminants in your drinking water and help you stay in good mood.
Features
Made from food-grade and BPA-free materials, non-toxic, environmentally friendly and odorless

The built-in activated carbon filter medium helps remove most contaminants, odor, dirt and particles while retaining beneficial minerals

Easy assembly without any tool needed. It is a perfect fit for your fridge model without any water leakage.

You will receive a full refund when there is any quality problem or it is not the same as described within 30 days of receiving it.
Compatible with:
W10413645A, W10413645, W10238154, KENMORE 9082, 46-9903, P6RFWB2, PUR Filter 2, EDR2RXD1, W10413645, EDR2RXD2, PUR EDR2RXD2, Filter 2, PUR EDR2RXD3, WRX988SIBM03, WRF736SDAM13, WRF736SDAM11, KRFF707ESS01, DGHS2665KF, FFEN2822QS, FFHB2740PE, FFHB2740PP, FFHN2740PE, FGHB2866PF, FGHN2844LF, FGHN2866PF, LGHB2867PF, LGUB2642LE, FGHC2331PF, FGHS2355PF, FGHS2631PE, LGHC2342LE, FGHS2631PP, FFED2322QS, FFHN2740PP, FGHB2866PE, FGHG2366PF, LGHN2844ME, LGHN2844MF, LGUB2642LP, LGHC2342LF, FGEX26D6QF, FGHC2355PF, FGHS2655PF, FFHB2740PS, FFHN2740PS, FGHB2866PP, FGHN2866PP, FGUB2642LF, FFHS2622MH, FGHS2631PE 
Why Replace a Water Filter Every Six Months?
As the filter will absorb and block water contaminants, it will become saturated and clogged hence reducing the water flow and filtration ability gradually. It is recommended to replace the water filters every six months.
EDR2RXD1 Water Filter D2 9082 Kitchenaid Filter 2 W10413645a Replacement Refrigerator Water Filter By Dfilters 3Packs
$79.99