Dfilters D1 Compatible with W10295370,Filter 1,WF537,EDR1RXD1,9081 filter 3Pcs NF001
GUARANTEED SAFE CHECKOUT
Features:
Efficient Filtration - Reduce 97% Contaminants in Water.
Perfect Fit - Replace EDR1RXD1 / W10295370A.
Easy Installation - No tools required.
Long Filter Life - 200 Gals or 6 months.
Ship From the US, Fast Delivery Within 6-8 Business Days.
* Friendly Reminder: Package is updating, you may receive the products with a partially different appearance from the picture.
Frequently Bought Together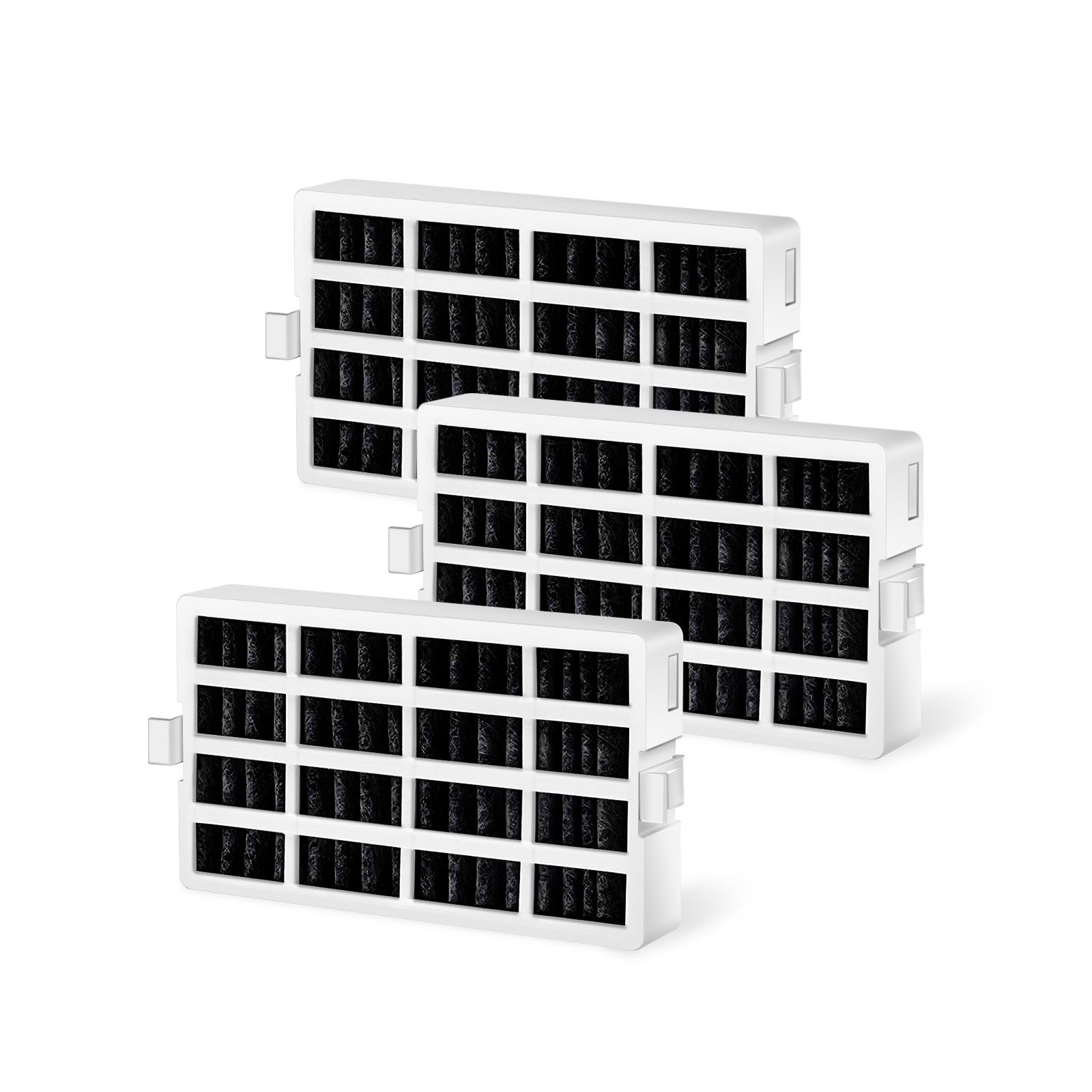 Total price:

$50.99

$84.99
This item:

Dfilters D1 Compatible with W10295370,Filter 1,WF537,EDR1RXD1,9081 filter 3Pcs NF001

-

$45.99

W10311524, AIR1, AP4538127 Refrigerator Air Filter by DFilters 3pk

- $15.99
Description
This(D1) refrigerator water filter 1 could reduce 24 impurities in water as well as other harmful contaminants. The fridge filter is compatible with Everydrop Water Filter 1, W10295370A, Whirlpool EDR1RXD1 Water Filter and Kenmore 9081 Water Filter. Replacement brands like Whirlpool, Kenmore, Amana, Maytag, KitchenAid, Jenn-Air, Everydrop, etc. We recommend to replace the filter every 6 months to ensure the filtration performance.
Water is the source of life. Studies have shown that everyone needs to consume at least 0.53 gallons of water per day. Drinking an appropriate amount of water can promote the body's metabolism and help the organs to expel toxins from the body.
Our confidence comes from our powerful products. Each refrigerator filter of D Filters has undergone thousands of high-intensity tests before mass production, so that the products received by customers are satisfactory and amazing. As a professional refrigerator filter manufacturer, we will not let down the trust of every customer.
BPA-Free and food-grade materials, Sri Lankan coconut shell carbon block, super adsorption capacity, maximum reduction of harmful impurities contained in drinking water, while retaining beneficial minerals to the human body, significantly improved the taste of water.
D Filters can remove more than 97% of potentially harmful contaminants in the water, such as Chlorine, taste, odor, THM, VOCs, Particles and all other major impurities. It can also remove some herbicides, pesticides, pharmaceuticals and insect repellant that can be found in water.
D Filters uses advanced and precise measurement technology, and the refrigerator filter made by industrial automation equipment has the same size parameters as the original filter. It can be ensured that our refrigerator filter can perfectly fit your equipment and will not leak water.
Our refrigerator water filter is a complete replacement for the original water filter. You can easily complete the installation within a few minutes according to our installation instructions without any tools.
For the health of you and your family, please ensure drinking enough water. For the safety of you and your family, please be sure to drink filtered water.
Our D Filters
will always provide clean, good-tasting water for everyone.
Something You May Know
Municipal and well water may contain dirt, lead, sand, sediment, cysts, and chemicals such as chlorine that can affect the safety, taste, and smell of your water. So, Your tap water - the water that you drink, cook with, and shower in - isn't as clean or as safe as you might think. 
A good water filter, such as the filter W10295370, can remove these contaminants and give you healthier, great-tasting water and ice, as well as extend the life of your refrigerator.
About Dfilters NF001 water filter description:
Dfilters carry one model of the EDR1RXD1, or W10295370, the OEM water filter 100% compatible with refrigerator filter 9081, W10295370A, Refrigerator Water Filter 1,etc. By using Dfilters NF001 water filters, you can get clean, delicious water straight from the fridge.
Dfilters filters have been independently tested for taste and health against emerging pollutants. If you need fresh filtered water. Maybe we are also your reliable choice
The W10295370A filter replacement is a 100% compatible aftermarket model with a one-year satisfaction guarantee - return it with fast shipping and a full refund if you aren't satisfied with its performance. 

Keep fresh drinking water
Please replace it for 6 months or 200 gallons
It got to the point where it no longer filtered because it was full of dirt and debris. When the water stops flowing, you know it's time to change the filter.

Top quality materials
The activated carbon filter clings to particles through a process called adsorption. The main contaminant removed from the carbon core in a fridge filter is chlorine.
Easy Install
Dfilters Refrigerator water filter is easily the most convenient way to filter drinking water on the market. Compared with other water purification equipment, the installation steps are easier.
Localized Logistics Services
The fastest delivery time is two days. 
Dfilters D1 Compatible with W10295370,Filter 1,WF537,EDR1RXD1,9081 filter 3Pcs NF001
$79.99